Map & Directions
How to find us!
"Seek His will in all you do, and He will show you which path to take." -Proverbs 3:6

St Mary Orthodox Church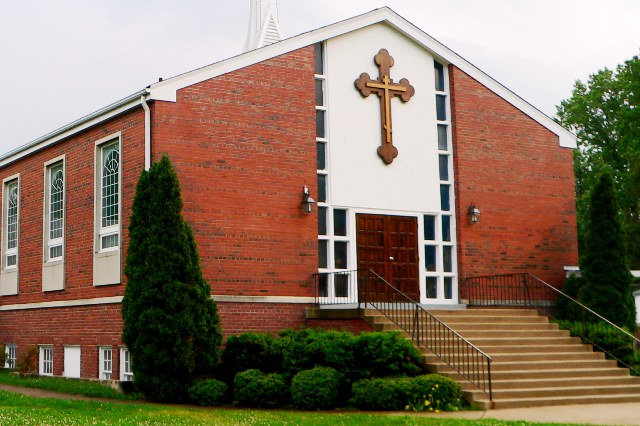 7223 Roosevelt Ave
Falls Church, Virginia 22042

From the Washington Beltway I-495
Take exit 50E (Arlington Blvd). Proceed to the third traffic light. Turn left onto Graham Rd and travel 6/10 mile. Turn left onto Quincy Ave and then take an immediate left onto Roosevelt Ave. St Mary's is on the left at the top of the hill.

Via METRO:
Take the Orange Line to either East Falls Church or Dunn Loring stations. The 2A, 2B, and 2C buses run along Lee Highway and stop at the Lee Highway/Graham Road intersection. If you are at East Falls Church Station, the buses will head West. If you are at the Dunn Loring Station, the buses will head East. The buses run once every half hour on weekends. We advise riders planning on taking the metro/bus read the schedule first. The bus schedules are all on
www.wmata.com
.
Driving directions
From:
To:
7223 Roosevelt Ave, Falls Church, VA 22042
Welcome to St. Mary Orthodox Church

"Today the faithful celebrate the feast with joy / illumined by your coming, O Mother of God. / Beholding your pure image we fervently cry to you; / Encompass us beneath the precious veil of your protection; / Deliver us from every form of evil by entreating Christ, / your Son and our God that He may save our souls."

Consecrated in 1988, Protection of the Holy Mother of God Orthodox Church (St. Mary), is a community of the Orthodox Church in America, an English-language parish of the Romanian Orthodox Episcopate of America, that meets in Falls Church, VA. Our congregation is a mix of cradle, convert, and "re-vert" worshippers, coming from all different walks of life and backgrounds. In other words, we are a great American "melting pot" of Orthodoxy in the heart of the Nation's Capital!


Our Mission:
To share the light and the joy of Christian Orthodoxy in Northern Virginia, to educate the faithful and newcomers in the Faith and its teachings and traditions, making them accessible to all, and to practice hospitality and community building in the name of our Lord Jesus Christ.

"Celebrating over 25 Years of Truth, Tradition and Hospitality in Northern Virginia"
We invite you to join Rev. Father David Subu, Protodeacon Peter Danilchick, Deacon Nicholas Dujmovic and our entire community to share the fullness of faith with our friends and neighbors. Please join us for worship and fellowship. If you know someone who may be seeking an English-Service focused Orthodox community, please tell him or her about us!






LIKE US ON FACEBOOK



Upcoming Events
No upcoming events for now.